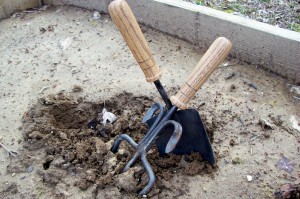 As winter continues its journey, dreams of the upcoming garden season are quickly becoming reality.  Jardin seeds collected throughout the previous growing season are catalogued and set aside, ready for planting as the temperatures begin their steady rise.  New seed varieties to be tried in this year's garden are ordered and are beginning to arrive in the post.  Winter has been mild and kind, and we anticipate finalizing garden plans and the work preparing and amending the raised beds.  By late February the beds will be turned and the early crops of peas, kale, lettuce, and spinach will be direct sown with beets, cabbage, leeks, radishes, and turnips to follow quickly behind if the temperatures remain constant.
On Saturday, February 25, 10 – 4 PM, come and visit our jardin potager at historic Fort de Chartres.  Join in our historic journey and watch us begin the annual work of gardening in the Illinois Country.  Volunteers as habitants, prepare kitchen garden beds with reproduction tools and plant heirloom seeds of vegetables, herbs, and flowers, all heirloom varieties that might have been grown in Upper Louisiana. We celebrate the approach of spring with the age old activities that bring the promise of future harvests of the spring, summer, and fall seasons.
Thank you once again to Silvertree Forge, Jas. Adams, Proprietor, for offering to replace the wooden handles of newly donated period garden hoes and pitch fork.  (Thank you, Shawna Kadlec, for the donation!)  Mr. Adams has been kind enough to create our most excellent reproduction primitive garden tools used in our heritage garden.  If interested in participating or for more information about period garden tools, please visit the Participer page of our garden blog.