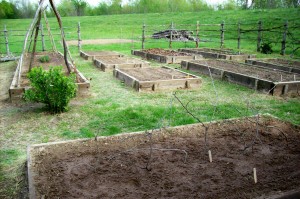 17 April, Sunday
74 Degrees F
Sunny, Light Winds
Traveling to the fort today, through the winding roads in Illinois farmland,  the air truly felt like spring. In the weeks since the last posting, rains have been frequent, with temperatures swinging from cool to warm and back again. Luckily, today's work in the garden was to be accompanied by warm winds. Perfect weather to plant our new fruit trees that have been in a cool storage location for the last two weeks awaiting the right planting conditions.
While we waited for these warmer temperatures, our long range l'habitant jardin plans were reviewed and discussed. The plans referenced descriptions of typical French residences, as from former Governor Thomas Ford's History of Illinois. He resided in the Illinois Country in 1805 and reminisced, "These houses were generally placed in gardens, surrounded by fruit trees of apples, pears, cherries, and peaches; and in the villages each enclosure for a house and garden occupied a whole block or square, or the greater part of one."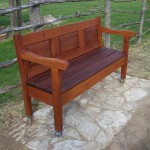 A beautiful new addition to the l'habitant jardin is a period reproduction bench created by Zack Huber, a local Eagle Scout candidate from Prairie du Rocher.
Blight and disease had damaged some of the existing fruit trees in our habitant garden and removal was begun the week previous by Gerry Franklin, a member of the fort staff. Earlier this year, the following tree varieties were researched, ordered and now ready to be planted
Snow Apple (Fameuse), France, prior 1800. One of the oldest and most desirable dessert apples, a parent of the aromatic McIntosh.
Summer Rambo (Rambour Franc), France, 1535. Large red fruit, bright striped. Breaking crisp, exceptionally juicy, aromatic flesh.
Calville Blanc, France, 1598. This is a gourmet culinary apple of France. Uniquely shaped medium ot large size fruit, yellow skin with light red flush. Banana-like aroma with more vitamin C than an orange.
Anjou Pear (Beurre d'Anjou), France, prior to 1800. Large, conical short-necked fruit, light green when ripe with some russeting.  Mild, melting with white flesh with delicate aroma.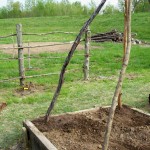 Volunteers Jeremy, John, and Nick, along with Dennis, a fort staff member, were assisting in the garden work today, digging holes and planting trees. The pear trees were placed just outside the garden fence; the apple trees planted inside the garden fence in an alternate order to be espaliered as they grow. Immediately the trees were pruned, wired to their supports, and watered in. Jeremy and Nick (with John's assistance) placed the wooden pole supports for the Painted Lady Runner Beans in the first of the garden beds and the beans were planted around their bases. The last two beds to be sowed with spring vegetables were planted with differing varieties of peas (Blue Podded and de Grace Snow Peas). Branches were pushed into the garden beds to act as supports for these climbers. As peas grow, they will climb through the branches that hold the supports in place and upright. Also planted among the turnip rows were Tom Thumb bush peas, saved from last season's successful crop. Again beds were watered as tools were gathered, cleaned, and put away-preparations for the travel home. Winding our way home, we once again reflected, dwelling on the day's accomplishments and the work yet to come.  We look forward to the projects of the season ahead, including our new compost bin being created by Justin Detering, a local student, as it nears completion.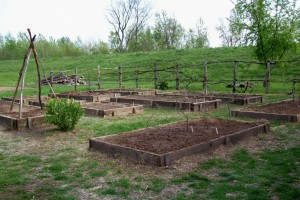 Please note: An upcoming family event at the Fort de Chartres , will be the annual Kid's Day on Saturday, May 7, from 10 AM-4 PM. It's a  free event that features yard games, period board games, rope making, dancing, King & Queen coronation, gardening, free trees, artifact display (arrowheads, etc.), and a puppet show. Come out to the fort and enjoy the morning or afternoon with your family and immerse yourself in fun activities pertaining to our region's 18th century history.