CK, FdC Jardin Potager Heirloom Produce Saturday, May 16, 2015
Tarte sucrée aux épinards
This spinach recette, which has been made over the centuries, is often served to celebrate spring and its holidays especially in southern France and northern Italy. The eighteenth-century English version of the recipe below is from the Cookbook of Unknown Ladies and is flavored with rosewater and laced with brandy:
take 6 eggs, yolks & whites. Beat them well with a pint of sweet cream, a qr of a pd of crums of bread, a good handfull of spinage cut small, half a qr of currons, half a qr of almonds pounded wth a little rose water, half a nutmeg, half a pd of white sugar. Half a pound of drawn butter, 3 spoonfulls of brandy. Mix all well together. Lay paist thin at the bottom & sides of the dish & cross bar at top. 3 qrs of an hour bakes it.
https://lostcookbook.wordpress.com/2013/06/02/spinach-tart/
The Cookbook of Unknown Ladies is a manuscript recipe book in the collections of Westminster City Archives. The recipes, recorded in several different hands, span 150 years of British cookery, providing a fascinating insight into culinary craft of the Georgian and Regency periods. Little is known about the provenance of the Cookbook, and its passage from the eighteenth-century kitchen to the Westminster City Archives library,  as it is shrouded in mystery.
My recreation of this 18th century recipe, melded the above with the European styled Sweet Spinach Tart recipe from Jane Grigson's 1977 Vegetable Book cookbook.
8 ounces spinach
4 ounces milk
4 ounces cream
2 ounces sugar
Half of a vanilla pod (In the tradition of 18th century flavorings, I substituted for the vanilla a touch of rosewater, ½ tsp almond flavoring, and a pinch of nutmeg. CK)
2 small egg yolks
1 ounce flour
Pie pastry, enough for one crust and extra for decoration, if desired. One crust baked blind (partialy prebaked in pie plate)
Remove any remaining excess water from the drained cooked spinach. Slowly heat the milk and cream to almost boiling. Take a quick second to stir flour into the beaten yolks. Add the yolk/flour mix to the almost boiling milk and cream to thicken. Move from heat and gently add the spinach and other ingredients, pouring the mixture into the pastry. Add to the tart's surface the remaining pastry cut in a design of your choice. Brush design with egg white. Bake at 350 degrees for about an hour (watch for browning pastry). Tart can be served warm or cold, with cream or without.
Radishes, Butter, and Salt
The French have been nibbling this simple snack for many centuries-for breakfast, lunch, before meals or as a bedtime snack. In France, radishes may be served whole with a side dish of sweet or unsalted butter, or served sliced on a slice of buttered French bread, sprinkled with salt. One tip is to cut an "x" in the tip and dip the radish directly in the butter (and great with a beer). Another take on this tradition throughout the eighteenth century French communities of North America is to try this snack substituting the radish with slices of red onion-a particular French colonial favorite.
CK, FdC Heirloom Produce Saturday, May 16, 2015
2013 Winter Rendezvous Bake Oven Demonstration, 2 Novembre
Thank you to the many visitors to the bake oven Winter Rendezvous weekend. The meeting was a pleasure and we appreciate your interest in our baking efforts. We promised to post the recipes made during Saturday's demonstration and they are listed below. Please let us know if you have any questions.
Antoinette Hancock-Comfits, Common Biscuits, Common Seed Cake, Manchet Bread, Sugared Peel, Wigs
Carol Kuntz-Hickory Cake, Pain Français, Small Persimmon Cakes, Pompion Chips, Pumpkin Cornbread
Common Biscuits
Beat 8 eggs half an hour (if using a whisk). Put in a pound of sugar beat and sifted with the rind of a lemon grated. Beat them well together for one hour (if doing this by hand). Then put in a pound of flour with a little rosewater. Bake them in tins or on paper (parchment) with sugar over them.
Elizabeth Raffald's The Experienced English Housekeeper, 1769 (with a few minor adjustments/suggestions)    AH
To make a common seed cake
Take 2 lbs flour
Rub into it 1/2 lb sugar
And some carraway or coriander seeds
Melt 1/2 lb butter in 1 pint milk
Add 2 spoonfuls of new barm – I will use 2 pkgs yeast
Make it up quick into a paste and set in a warm place to rise.
Flour your tin and bake it in a quick oven*
*Or  place it as a round of bread on a baking sheet.
Elizabeth Raffald   AH
Comfits 
These are seeds that have been covered with several layers of sugar syrup and allowed to dry after each application. They are the breath mint of the 18th century, often served with wine after a meal.
My method is simple but time consuming. Slowly dissolve 1 cup sugar in 1/3 cup water and bring to near candy stage.  The syrup is thick and will begin to thread when poured slowly from a spoon.
Have your seeds ready in a small metal bowl.
Pour a tablespoon of sugar syrup over the seeds and immediately stir them up with a fork or wooden spoon quickly trying to coat each seed (which to my mind is impossible).
When cooled a bit, I put the seed clump onto a cookie sheet so I can break up the clump into individual seeds with my hands – rolling the seeds around to separate them.
Repeat this process as many times as you like.  My limit is in the 5 to 10 range.      AH
Ivan Day: http://www.historicfood.com/Comfits.htm
Other methods: http://www.gallowglass.org/jadwiga/SCA/cooking/recipes/Comfits.htm
Hickory Cake recipe has been previously listed in the 2013 Les récoltes d'Octobre Recettes. Carol's recipes for Small Persimmon Cakes and Pain Français recently were published in Recettes, Receipts, Recipes, a Autumn season exploration into the Culinary Arts of the Illinois Country. 
The making of a fine Manchet
Take a half a bushel of fine flour twice boulted, and a gallon faire luke warm water, almost a pint of yeast, then temper all these together, without any more liquor, as hard as ye can handle it: then let it lie half and hour, then take it up, and make your Manchets, and let them stand almost an hour in the oven. Memorandum, that of every bushel of meal may be made five and twenty cast of bread, and every loaf to weigh a pound beside the chisel, The Good Huswifes Handmaide for the Kitchen. 1594
1 envelope yeast
1 C warm water (or half water/half milk)
2 ½ cups whole wheat flour
1 cup all purpose flour
(I have often eliminated the whole wheat and just used 3 ½ C white all purpose flour)
1 tsp salt
2 tbsp sugar (I use brown sugar)
3 tbsp butter
Dissolve yeast in liquid.
Mix flours and salt together.
Melt butter.
Add yeasted liquid, butter and sugar to the flour.
Knead 5 minutes.  Dough will be slightly sticky but should be easy to rub off your hand.  Add a little flour if the dough does not pull easily away from the bowl when kneading.
Put aside to rise until doubled (I have even let it sit overnight with no harm done.)
Punch the dough down and form into small flat rolls.
Place in a 400 degree oven and bake 10 minutes.  My oven is not reliable, so I would suggest that 350 – 375 degrees would be fine.  Just watch them until they are brown.  They don't take long!    AH
http://www.williamrubel.com/2011/09/12/manchet-bread-from-huswifes-handmaide-in-the-kitchen/
http://historyofbread.wordpress.com/2012/08/31/lady-of-arundels-manchet/
To make Pompion Chips
Shave your Pompion thin with a plain and cut it in slips about the width of your finger, put shreds of Lemon peal among it, wet your sugar with orange Juice and boil it into Syrup. Then put in your chips and lemon Peal and let them boil till done.  The Receipt Book of Harriott Pinckney Horry, 1770     CK
Pumpkin Cornbread
1 cup pumpkin puree (freshly baked)
2 cups yellow cornmeal
2 eggs, beaten
2  cups buttermilk
¼ cup sugar
1 tsp baking soda
2 tbsp animal fat, melted
½  tsp salt
Honey
Mix together in top of double boiler the cornmeal, sugar, salt, milk and margarine. Set over hot water and cook for 10 minutes. Cool. Add eggs, soda (dissolved in water), and pumpkin. Pour into greased baking dish and bake in preheated oven at 400 degrees for 30 minutes. Serve with wild honey.
I have gotten into the habit of using whatever produce is in season, whether native or garden.  CK
Spiced Pecans or Walnuts
1 ½ cups pecans or walnut halves
½ white or brown sugar
¼ cup water
½ tablespoon grated orange rind
¼ teaspoon cinnamon
1/8 teaspoon ginger
1/8 tablespoon mace
Pinch of nutmeg\
Combine all ingredients in a heavy skillet. Heat over medium temperature until the liquid boils. Stir constantly until all liquids have evaporated and nuts are coated with sugar. Spead on platter, separating nuts and allowing them to cool.
Similar recipes for spiced and sugared nuts contained in the Recettes of old Prairie du Rocher, Randolph County Historical Society, Receipts from the Days of Old Kaskaskia and Recipes of Old Saint Genevieve.   CK
Sugared Peel
Remove the peel from lemons/limes/grapefruits/oranges with as little of the pith as possible.
Place the peels in water in the refrigerator.
Change the water every day for 5 days.
Drain the peels and place in a pan of sugar syrup (1 cup sugar dissolved in 1 cup water).
Boil the the peels gently for 1/2 hour.
Allow to cool and place in the refrigerator overnight.
For another 1-2 days, repeat.
Drain the peels sift, sugar over them and allow to dry.  AH
http://damealys.medievalcookery.com/CandiedFruitPeel.html
Wigs
To 3/4 of a pound of flour put half a pint of milk made warm.
Mix in 2 or 3 spoonful's of light barm ( 1 package yeast will do).
Cover it up and set it by the fire to rise.
Work into the paste 4 ounces of sugar and 4 ounces of butter.
Make the dough into wigs with as little flour as possible and a few seeds.
(Work in some caraway or coriander seeds* and add enough flour to dough so you can roll out and cut into whatever shape as you please – triangles were popular).
Let rise and set in a quick oven to bake.
(These do not take long to bake in a 350 oven – when browned, they are done.)
*Toni improvised and substituted some dried blueberries and pompion chips instead of caraway or coriander seeds.
Elizabeth Raffald (with a few minor adjustments/suggestions)   AH
Les récoltes d'Octobre Recettes
Autumn is a time spent utilizing the very last offerings from our Jardins. A tian recipe shared by Pam Ramsey at an early autumn FdC Jardin Heirloom Produce Saturday, originated with Pam's sister, and is a wonderful way to use the last of the garden offerings. A tian traditionally can refer to the Provençal dish or the vessel it is prepared in.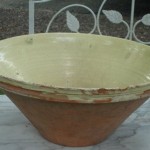 In the 18th century, the term was used to describe a "lean stew".*  The modern version is often referred to as a vegetable gratin of varying ingredients, baked in an oven. A typical tian vessel is wide at the mouth and narrow at the bottom, pottery glazed on the interior only.
Lorna's Vegetable Tian (shared by Pam Ramsey)
Prepare ovenproof earthenware dish with a bit of olive oil (9" x 13" dish). Pre-heat oven to 375 degrees.
Prep/slice vegetable (your choice) in advance:
4 small sliced grilled eggplants (Slice into discs with skin on, salt, lay on paper towels to pull out moisture. Brush with olice oil, grill togolden brown. Drain on paper towels till needed.)
2-3 red onions and garlic, if desired.
4-6 ripe tomatoes
2-3 zucchini, yellow squash, and/or pattypan (scallop) squash-bias cut.
1/3 cup Kalamata olives (optional)
Prepare the mixture of herbs, garlic, crumbs, cheese (can be omitted), roasted pine nuts if available. The herbs can be a combination of thyme, oregano, rosemary, basil, mint, sage, etc; 1/3 cup of dry bread crumbs, ½ cup of one or more of cheeses (Feta, Goat, Gruyere, Fontina, or Parmigiano). Sprinkle this mixture on each layer as you work and add Parmigiano on top. Bake for 40 minutes in a 375 degree oven. The dish may need additional bake time depending on the ingredients.
Fruit puddings were common in our colonial past and a perfect way to use autumn fruit. Hannah Glasse records an Apple Pudding in her cookbook, The Art of Cookery Made Plain and Easy (1747):
Take twelve large pippins, pare them, and take out the cores, put them into a sauce-pan, with four or five spoonfuls of water; boil them till they are soft and thick; then beat them well, stir in a pound of loaf sugar, the juice of three lemons, the peel of two lemons, cut thin and beat fine in a mortar, the yolks of eight eggs beat; mix well together, bake in a slack oven; when it is near done, throw over a little fine sugar. You may bake it in a puff paste, as you do the other puddings. Pg. 103
Another: To make an Apple-Pudding
Make a good puff-paste, roll it out half an inch thick, pare your apples, and core them, enough to fill the crust, and close it up, tie in a cloth and boil it. If a small pudding, two hours; if a large one, three or four hours.  When it is enough, turn into you dish cut a piece of the crust out of the top, butter and sugar it to your palate; lat on the crust again, and send it to the table hot. A pear-pudding make the same way.  And thus you may make a damson-pudding, or any sort of plumbs, apricots, cherries, or mulberries, and they are very fine. Pg.110
In the 19th century, Summer/Autumn Puddings, using bread slices, surface as a new delicious take on traditional fruit puddings. This pudding variation is sometimes listed as a traditional Scottish pudding.
Summer Pudding/Autumn Pudding
Prepared fruit – 700g (1½ lb)
Water – 5 tbsp
Bread – 6–8 large slices, crust removed
Sugar – 110g (4 oz)
Fresh fruit and mint sprigs – to decorate
Fruit for SummerPudding is typically a mixture of some or all of the following: raspberries, strawberries, stoned cherries, redcurrants, blackcurrants, gooseberries, rhubarb. For Autumn Pudding use a mixture of fruits such as apples, blackberries, plums and pears.
METHOD:
Gently stew the fruit in the water and sugar until soft but still retaining their shape.
Meanwhile, cut a round from one slice of bread to neatly fit in the bottom of a 1.1 litre (2 pint) pudding basin and cut 4–6 of the remaining slices into neat fingers. Arrange the fingers around the sides overlapping them so there are no spaces
When the fruit is cooked, and still hot, pour it gently in the basin, being careful not to disturb the bread pieces. Reserve about 3 tablespoons of the juice. When the basin is full, Cut the remaining bread and use to cover the fruit, to form a lid
Cover with foil, then a plate or saucer which fits just inside the bowl and put a weight on top. Leave the pudding until cold, then put into the refrigerator and chill overnight.
To serve, carefully run a knife round the edge to loosen, then invert the pudding on to a serving dish. Pour the reserved juice over the top. Serve cold with cream. Decorate with fruit and mint sprigs. Serves 4–6
http://extension.wsu.edu/maritimefruit/reports/Pages/Currants01.aspx#pudding
Hickory nut recipes abound throughout regional cookbooks in the Illinois country. This nut is featured in cakes, cookies (small cakes), and puddings. A modern version:
Hickory Nut Cake
2 cups sugar
¾ cup butter
5 egg yolks, well beaten
3 cups cake flour, sifted
2 teaspoons baking powder
¼ tsp salt
½ cup cream
2 cups hickory-nut meats, blanched and chopped
½ tsp almond extract
5 egg whites beaten stiff
Cream butter and sugar until fluffy, add egg yolks and beat well. Sift flour and baking powder together and beat into butter mixture in thirds, alternating with cream, to which salt has been added. Stir in nutmeats and almond extract. Fold in stiffly beaten egg whites and turn into greased and floured 10-inch tube cake pan. Bake 350 degrees, 1 hour and 25 minutes, or until top springs back when lightly touched with fingertip. Let sit in pan 10 minutes, then invert over wire rack. When cold, remove from pan. No frosting is necessary. Makes a 10-inch cake.
Cooking Plain, Illinois Country Style by Helen Walker Linsenmeyer, Southern Illinois University Press (1976)
13 Julliet Heirloom Produce Saturday Recettes 
Our gooseberry shrubs have thoroughly enjoyed the cool spring and are rewarding us with a bumper crop of berries this year. For this event, we will feature two 18th century recipes featuring this tart/sweet fruit. – CK
Gooseberry Tart
Amelia Simmons, American Cookery (1796) Page 32
Lay clean berries and sift over them sugar, till a deep dish be filled, intermingling a handful of raisins and 1 gill water; cover with paste No. 9, and bake some what more than other tarts.
Royal Paste No. 9
Rub a half pound of butter into one pound of flour, four whites to foam, add two yolks, two ounces of fine sugar,; roll often rubbing one third, and rolling two thirds of the butter is best; excellent for tarts and apple cakes.
Amelia Simmons, American Cookery (1796) Page 29
http://digital.lib.msu.edu/projects/cookbooks/books/americancookery/amer.pdf
Gooseberry Pie
History from the Hearth, Sally Eustice (1997)
Double pie crust
4 cups fresh gooseberries
5 T flour
1 ½ cups sugar
Snip off the stem and blossom ends of berries. Wash and drain. In a bowl, mix together sugar and flour. Fold in berries. Line a pie pan with crust, spoon in gooseberry mixture, cover with top crust. Vent to allow steam to escape. Bake on a pie pan in trivet, inside a Dutch oven, cover, and bale about 40 minutes. Replace the coals on the lid and around the oven as necessary, using a fairly hot fire.
Gooseberry Foole
The earliest recipe for a gooseberry or fruit fool dates to the mid 17th century. Some believe the name derives from the French verb fouler meaning "to crush" or "to press" . The most common fruit ingredient in fools was gooseberries, although other fruits and berries are listed in early receipts (recipes). It is a dessert made by blending the pulp of the sweetened fruit with sweetened whipped cream or cooled custard Gooseberry Fool, a cooling summertime treat.
Gooseberry Fool 
1 lb gooseberries
2 T butter
3 T sugar
1 ½ cups heavy cream
Pinch the ends off the gooseberries. Melt butter in a pan and add gooseberries and sugar. Cover and cook over low heat, until soft and mushy. Mash berries and pass through a sieve. Discard the skins. Taste and add sugar, if it's too tart. Set aside to cool. Whip cream and fold into gooseberry pulp. Spoon into custard cups and chill before serving. (Raspberries, strawberries or huckleberries may be substituted.) History from the Hearth, Sally Eustice (1997)
Other historic Gooseberry Fool versions:  http://thehistoricfoodie.wordpress.com/2011/06/24/200/
A modern version:  http://leslieland.com/2011/07
Gooseberry Medicinal Uses:
Pregnant women often had a yen for gooseberries, especially because of their cooling qualities to the stomach and their ability to quench thirst. They were said to be conducive to good appetite and a remedy for catarrh. Indians in the Rocky Mountains ate what they called porridge of cooked gooseberries for fever and for seizures of malaria marked by paroxysms of chills, fever and sweating recurring at regular intervals. Gooseberry tea was used to cure canker sores and for mouthwash.[ "For A stye on the Eyelid- Point a gooseberry thorn at it nine times saying away away away! and the stye will vanish presently and disappear
Read more: http://davesgarden.com/guides/articles/view/1153/#ixzz2Yqnap4h6
Recipes from previous Summer Heirloom Produce Saturdays containing recettes for cabbage, summer squash, carrots, apples and onions, are located on the blog Recettes page.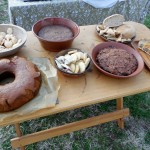 Bake Oven Demonstration, 4 Avril, Colonial Trade Faire 2013
The weeks have been winging by and finally able to post some of the recettes (recipes) from the Bake Oven Demonstration at this year's Trade Faire. First posted will be Toni and Renea's recipes and in the next week or so, I will post the Pain d'Epices (Spice Bread) recettes explored, inspired by February's Persimmon blog post. Check back soon and in the meantime-enjoy Toni and Renea's efforts!  CK
Antoinette Hancock-French Bread, Robert May (1660), Recipe adapted Elizabeth David (1977)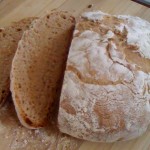 Toni:
This recipe was adapted by an incredible English author, Elizabeth David, in her book entitled "English Bread and Yeast Cookery". See pages 313 – 316 (Robert May's French Bread) for the complete description of Mr. May and the early measurements and production of the bread.
Ingredients:
| | | |
| --- | --- | --- |
| "French" Bread | Elizabeth David – 1977 | Robert May – 1660 |
| flour | 1 lb 2 0z | 1 gallon (7 lbs) |
| yeast/barm | 1/2 oz | 1 pint barm |
| eggs | 2 egg whites | 6 egg whites |
| milk/water | 1/2 pint to 12 oz | 3-4 pints |
| salt | 1/2 oz | some |
| butter | | |
| oven | 450 | no temp in source |
| time | 30 min | no time given in source |
Warm flour and salt.
Pour in the yeast creamed with a little of the warmed milk and water mixture.
Add the egg whites beaten until beginning to froth.
Pour in the remaining milk/water mixture.
Mix and leave to rise until spongy and light.  45 to 60 minutes.
Break down the dough, divide and shape into 2 round loaves.
Put them on a floured wooden board and cover with a light cloth to allow them to recover volume.  30 minutes should be enough.
Turn the loaves right side up onto a baking sheet.
Slash the tops with one slanting cut.
Bake on the center shelf of a hot oven (450 degrees) for 15 minutes.
Then cover the loaves with bowls to prevent the crust from getting too hard.
In another 15 minutes, the loaves should be sufficiently baked.
Toni also baked Wigs (Recettes 2010-2012, Demonstration of the Pierre Menard Home Summer Kitchen, October 7, 2012), Common Seed Cakes (Recettes 2010-2012, March 30, 3rd Annual School Day Event At Fort de Chartres).

Renea:
This is an adaptation from from the Layton/Gendron Families in the "Family Favorites Through Time" Kaskaskia in Randolph County, IL Tricentennial 1703-2003 cook book.
The recipe in the book called for baking soda, which I omitted because it would not have been available in the 18th century.  I could have used pearl ash as a leavening agent, but I whisked egg white since I did not have it on hand.
3 eggs, yolks and whites separated
1 cup sugar
¾ cup butter
1 cup blackberry jam
½ cup sour cream
1 teaspoon nutmeg
1 teaspoon cinnamon
2 cups flour
Mix well beaten yolks, sugar, butter, jam, sour cream, nutmeg and cinnamon.
Whisk egg whites until there is a firm peak.
Fold  egg whites into other mixture.
Add small amounts of flour into mixture at a time.
Separate mixture evenly into 2 cake pans.  Mixture will be thick.
Bake in a moderate (about 350 degree) oven
Filling
½ cup brown sugar
½ cup butter
½ cup whole milk (original recipe called for "sweet milk", but I found that whole milk was often referred to as such)
Heat mixture to boil, stir while it is heating to mix together.
Once boiling, do not stir for 10 minutes
Lemon Puffs
Renea had previously posted a lemon puff recipe, but has learned something new about it  and wanted to share an update.
Renea:
Previously posted: 1 1/4 pound of double-refin'd sugar beaten and sifted. Grate the rinds of four lemons. Mix the rinds well with the sugar. Then beat the whites of three new laid eggs very well. Mix it well with your sugar and lemon peel. Beat the mixture together an hour and quarter (I thought I would beat it until it is well mixed together. A mixer can be used also.) Make it up in what form you please; be quick to set them in a moderate oven; don't take them off the papers till cold.
Since then I have learned:
Use Baker's Sugar for  1 ¼ pound of double-refin'd sugar beaten and sifted.
You can use everyday sugar, but it will hold together as well.
Use at least 8 lemon rinds rather than 4.  If using smaller lemons increase the number even more.
The original recipe calls for "be quick to set them in a moderate oven".  I found that if you allow the mixture to sit a few minutes it will thicken like a batter.  This gives the lemon taste to be more prominent and also easier to bake.
The compleat housewife: or, Accomplished gentlewoman's companion, By Eliza Smith (1724)
Renea also baked Fruit Tarts (Recettes 2010-2012, Fort de Chartres November Rendezvous, 3 Novembre, 2012).
Carol Kuntz, Pain d'Epices (Honey Spice Cake)

Although ginger spice cake has it roots in 10th century Chinese honey bread, the Dijon region became the capital of honey cake in the 18th century. The Burgundian Dukes controlled the oriental spice trade and so they developed a taste for nutmeg, cinnamon, cloves, anise and ginger and hence Spice Bread.  Dijon's Mulot family have been producing this spice bread in the Mulot au Petijean since 1838 and are the only spice bread producers left, in this once thriving industry.
Ingredients
1 ½  cups milk
1 cup brown sugar
1 ½ cups runny honey
4 cups plain flour
2 tablespoons finely chopped candied orange peel
1 teaspoon ground aniseed
½ teaspoon ground cinnamon
½ teaspoon ground cloves
½ teaspoon salt
2 egg yolks
2 teaspoons baking soda
1 tablespoon water
Method
1. Heat the milk, sugar and honey in a saucepan, stir until the sugar dissolves. Bring it just to the boil, and then set aside until tepid.
2. Sift the flour into a bowl and make a well in the centre. Add three quarters of the cooled honey mixture and stir with a wooden spoon, gradually drawing in the flour to make a smooth batter.
3. In a small bowl, mix the candied peel, spices and salt. Stir in the remaining honey mixture and add it to the batter, stir until smooth. Cover and refrigerate the batter for 8-12 hours.
4. Heat the oven to 250F. Butter the loaf pans, you can also line them with grease-proof paper and butter the paper.
5. To complete the batter, mix the egg yolks and baking soda with the water in a small bowl. Stir this mixture into the batter.
6. Spoon the batter into the pans, filling them half full – the batter rises quite a bit during baking – a cover them loosely with foil. Bake for 30 minutes, then remove the foil. Continue baking for approx. 1 ½ to 1 ¾ hours more, or until a skewer inserted near the center comes out clean.
7. Note that the spice bread should be slightly under baked so it is soft in the middle and has not started to shrink from the sides of the pan. Let the breads cool and then turn them out.
Recipe courtesy of Anne Willian
20 Février, 2012
Duhamel de Monceau (1755) described the making of persimmon galettes (bread):
"One mashes the fruit through a strong sieve which separates the flesh from the skin and seeds: the flesh being reduced by boiling to a thick paste and then makes long bread loaves of a foot and a half in length, a foot wide and as thick as a finger. Then the bread is left out in the sun to dry or it can be cooked on a grill over a fire. These galettes have the best taste when left out in the sun to dry."
The common persimmon (Diospyros virginiana L.), The history of an underutilized fruit tree (16th-19th centuries), C. H. Brand (2005)
Osage Persimmon Cakes
Persimmons
Buffalo grease
Go to the woods and collect as many persimmons as you can. Build a fire. Using a small woven screen made from saplings, separate the seeds from the pulp. Do this by grating the persimmons against the screen; this causes the seeds to fall through the screen leaving the pulp behind. Mold the persimmon pulp into small cakes. Take a wooden drying board, about 9 inches wide and 18 inches long with a handle, and apply buffalo grease. Layer three or four persimmon cakes on the drying board and hold over an open fire until the first persimmon cake layer is about cooked. Then remove the cake and cool. When the cake is completely cooled they can be stored. These cakes will last until the next season.
By Andrea Hunter, Osage Tribal Historic Preservation Officer
http://www.aihd.ku.edu/recipes/osage_persimmon_cakes.html
Persimmon Cake (Staninca)
"A wooden bowl was now handed round, containing square pieces of cake, in taste resembling ginger-bread. On enquiry I found it was made of the pulp of the persimon,* mixed with pounded corn. This bread they called staninca."
* Diospyros Virginiana
Travels in the Interior of America 1809, 1810, and 1811, John Bradbury.   Liverpool:  Smith and Galway, and Published by Sherwood, Neely, and Jones, London, 1817
Boiled Corn Bread with Fruit (Persimmon)
A popular Iroquois dish was boiled corn bread. The corn was hulled, washed, and then pounded into flour which was mixed with boiling water until it formed a stiff paste. Cooked beans, walnuts, butternuts, or seasonal berries/fruits were added for flavor. When the mixing was done and the paste kneaded until just the right consistency, it was formed into loaves and placed in boiling water for about an hour. When the bread floated to the top of the water, the loaves were ready to eat.
by Robert E. Imars
Resources: Indians of Yesterday, Indians of Northeastern America
http://cuyahogafallshistory.com/native_american_food.htm
Persimmon Pudding
Many similar variations can be found throughout the Illinois country.

2½ cups flour
1½ cups sugar
2 teaspoons cinnamon
1 teaspoon cloves
1 teaspoon allspice
2 cups persimmon pulp
3 eggs
2 cups sweet milk
½ cup butter, melted
2 teaspoons vanilla (an 18th century substitute-brandy)
Mix together flour, sugar, and spices. Vary spice amounts according to personal taste. Stir in persimmon pulp, eggs, milk, melted butter, and vanilla. Bake in oven at 325° for about 1 hour.
Stafford Family Recipe, Stafford Historic Farm Persimmon Festival
http://www.ourstate.com/persimmons/
Choctaw Persimmon Cake
1/2 C. sugar
1 C. flour
1 tsp. baking soda
1/2 tsp. soda
1 C. persimmon pulp
1 egg, slightly beaten
2 tablespoon butter or margarine, softened
Put all ingredients in a bowl and mix well then pour into a well greased and floured pan. Bake in a 350 degree oven for about 40 minutes. This is good served with a whipped topping.
http://www.choctawnation.com/culture-heritage/choctaw-traditions/food/
Persimmon Brandy
"Having collected a sufficient quantity of persimmons in autumn, they are all together put into a vessel, where they lie for a week till they are quite soft: then they pour water on them, and in that state they are left to ferment themselves, without promoting the fermentation themselves by any addition. The brandy is then made in the common way, and is said to be very good…"
Pehr Kalm, 1773, Travels into North America, ed. 2, transl. J. R. Forester, London
Persimmon Brandy
1 bottle of French brandy
Persimmons to fill a ½ a bottle
Cloves
Cinnamon Stick
3 1/3 oz. of sugar
Lightly crush the persimmons in a glass container. Half fill the bottle with crushed persimmons. Add the cinnamon, cloves, and sugar and fill bottle with French brandy. Cap or cork tightly and place in a dark cool location for 4 mos. Initially shake the bottle every day for 2 weeks, then once a month. Keep bottle or jar in cool dark place for 4 months.
Strain and decant the persimmon brandy into new clean bottle.  CK
La Fete des Rois
2013, Javier
Galette des Rois
This French holiday cake is traditionally made of puff pastry filled with marzipan or frangipane. The young ladies' beans would have been kneaded into the dough as the pastry is made. Use two sheets of puff pastry with the nut filling in between. Use egg white to seal edges and then brush the cake with the remainder. Bake at 425 degrees for 25 minutes.
Although other Chicken Bouillon recipes can be found in earlier Recette postings, a recipe found in The Recipes of Old Ste. Genevieve, is appropriate to our recent garden season, including many of the vegetable successes in the past year.
Chicken and Bouillon Dinner
1 chicken (hen)
cabbage, onions, turnips, carrots, and a few hot peppers
salt
Place the chicken in a large kettle with one gallon of water. Simmer until almost tender. Add whole onions, carrots, peppers, turnips, and cabbage cut in wedges. Cook until tender. Serve vegetable and chicken on large platter. Strain liquid and serve in cups.
Les Croquignoles
4 beaten eggs
2/3  cup sugar
1/3 cup milk
1/3 cup shortening (butter), cooled
3 ½ cups flour
½ tsp salt
3 teaspoon baking soda (pearlash)
¼ teaspoon nutmeg
Beat eggs and sugar until light, add milk and shortening. Add flour sifted with salt, baking powder and nutmeg. Mix until smooth. Chill. Roll 1/4 inch thick on floured surface. Cut in strips, twist or tie in knots. Deep fry in hot fat (375 degrees). Drain on cloth or paper.
Pierre Menard Kitchen Recipes from the Pierre Menard Volunteer Group
Ratafiaz of Cherries
Let your Cherries be bruised together with their Kernels, and put into an earthen Jarr, or unto a wooden Barrel; but a Cask that has held brandy, is more especially proper for that purpose: To twenty Pounds of these Cherries add three Pounds of Rasberries likewise bruised, with five Pounds of sugar, three Penny-worth of cinnamon, a Handful of white Pepper in grain, a few Nutmegs, twenty Cloves, and ten Quarts of good Brandy: Leave the Vessel unstopt during ten or twelve Days, then stop it up, and let it continue untouched for the space of two Months…When the Ratafiaz is fit for drinking, the Barrel must be pierc'd above the Lees, as the Wine-casks are; but if kept in an earthen Jarr, it must be strained thro' the Bag, and put into other Vessels carefully stopped up, to be us'd as occasion serves.
The Court & Country Cook, written by Francois Massialot, 1702, Page 13
The recipe for the Pork Tourtière can be found in the Demonstration of the Pierre Menard Home Summer Kitchen recipes, October 2012.
The recipe for Spiced Pecans can be found in the October 13, 2102 Heirloom Produce Saturday recettes.
All La Fete des Rois recipes posted by CK.