13 février 2018 mardi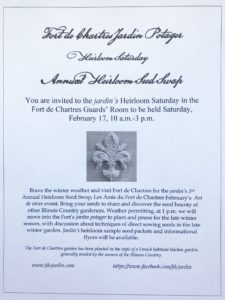 46 degrees, Cloudy
7 mph, SSE wind
February's continuing periods of cold temperatures and wintry weather has contained most of my gardening efforts to the indoors. On a recent afternoon, my granddaughter helped me plant rosemary and lavender seeds, helping jump-start the growing season for those seed varieties that are difficult to direct sow in the garden. Always a pleasure sharing these gardening activities with her and it feels like we are sharing our hopes for the future, planting seeds together.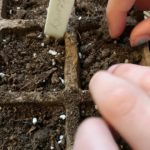 While I may not be working in the jardin just yet, that is not to say I am not busy preparing for the upcoming season. Saturday, February 17th, Fort de Chartres Heritage Garden will host its Annual Heirloom Seed Swap from 10 a.m.-noon. The seed exchange will take place in the Fort de Chartres Guards' Room and free heirloom seeds and sample seed packets will be available for visitors. You can bring your favorite or extra seeds to the Fort and share your seed bounty while having an opportunity to select seed from the garden project or from others' shared seeds. After a break and weather permitting at 1 p.m., we will move into the Fort's kitchen garden and learn about the upcoming growing season and which vegetable and flower seeds can be planted in late winter in the Illinois Country.  If the ground is too damp to work in the jardin in the afternoon, I will stay in the Guard's Room until 2 p.m. and will be happy to visit with anyone who stops by.
This event is free and open to the public. For any updated event information about this garden event, check the jardin's FB page at www.facebook.com/fdcjardin. If you would like more information about the Fort de Chartres State Historic Site, call Dr. Todd Hamilton, Site Specialist, at 618-284-7230.
Hope to see you this Saturday!