16 mars, 2017 jeudi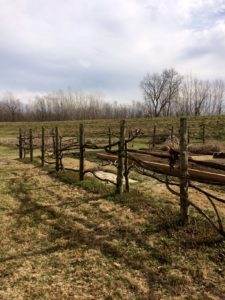 49 degrees, cloudy
12 mph, SSE wind
March in the Illinois country jardin has always been somewhat of a wild journey, and this year is no exception. The mild winter has produced little snow and rain while temperatures drop from high to low and back again, similar to years reported in the some of the first accounts recorded of the Illinois country. As l'habitants planted their jardin potager in those early  gardens, they learned to judiciously clear and plant beds, careful not to risk too much too early. They discovered how to plant what, when, and where in their gardens in this new continent as illustrated below in the instructions on the planting of peas as written in one of the earliest garden books printed in the American colonies, sharing commonsense garden knowledge, just as wise now as it was then.
"You should sow your Peas every fortnight, and as the hot weather comes on, the latter sort should be in a sheltered situation, otherwise they will burn up. I would recommend the sowing in drills about two or three inches deep, levelling the ground very smoothly with light mould, in rows about four feet asunder, for the convenience of going between, in order to gather the crop, and raising Cabbages or other things at the same time. In the spring let your rows be east and west, in the summer north and south, for a reason which must be obvious, viv. the giving them as much sun as possible in the first instance, and as little as possible in the last. When your peas are well up, they should be hilled once or twice before they are stuck; this not only strengthens them, but at the same time affords them fresh nourishment; the manner of sticking them every body knows; I shall only therefore mention a caution to put your sticks firm in the ground, otherwise they are apt to fall, when the vines grow rampant, and not to stic on them in too near the roots, lest you do the plant an irreparable injury. In the spring it has been found that scattering some dry cow dung in the trenches before you sow your peas, has been very beneficial."
A treatise on gardening, by a citizen of Virginia, John Randolph, jr. (1727-1784)
As garden beds are prepared for planting, precipitation would be welcomed and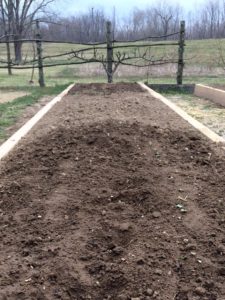 appreciated. This past mid and late February brought the planting of peas, radishes, and spinach. As we travel through the month of March, it is time to direct sow heirloom beets, scarlet runner beans, cabbages, leeks, lettuces, and onions. Mid-month is also a good time to plant the flowers and herbs like celosia, snapdragons, parsley, and field poppies. The pruning of the jardin's fruit trees has been underway and other timely garden tasks yet to be accomplished in our jardin include clearing the asparagus bed, pruning out the old canes of the gooseberry and currant shrubs, and dividing the garden's fall blooming perennials.
Some of these March gardening tasks will be undertaken with the help of friends during the annual Fort de Chartres Jardin Potager Weekend on Saturday & Sunday, March 25 & 26. Visitors are welcome to join volunteers on Saturday at 10:30 AM. for a discussion about direct sowing seeds in the garden. After a break and until 3 PM, work will begin in the garden preparing raised beds and planting seeds appropriate for spring. On Sunday, volunteers will be working in the garden from 11 AM-1 PM. Sample heirloom seed packets will be available to visitors traveling to the Fort to celebrate the upcoming spring season. This event is free and open to the public. If you would like more information about the Fort or upcoming events, call Fort de Chartres State Historic Site at 618-284-7230. For more information about the Fort's garden events, please email Carol at heritage@fdcjardin.com directly or follow the jardin's FB page at www.facebook.com/fdcjardin.
Note: I would like to thank the Northwest Historical Society of Jefferson County for inviting this gardener to speak earlier this month at their monthly meeting held in Byrnes Mill, Missouri. As a Master Gardener of Jefferson County, Missouri, it was a pleasure to share the history of Fort de Chartres, as well as the information on the eighteenth century demonstration garden located on-site. The presentation was well attended and I thank all for the wonderful questions about the garden and the Fort.  I was very happy so many sample seed packets and informational flyers were shared. Next to working in the Fort's kitchen garden, sharing the histories of French colonial eighteenth century gardening and Fort de Chartres are a passion. Many thanks to all who attended and I hope they travel soon to visit in person the Fort's jardin potager. A bientôt!