29 décembre 2016, jeudi
47 degrees F, Sunny
22 mph, W wind
As December's end rapidly approaches and holiday greetings of "Bonne année et bonne santé!" echo through time in the old French communities of the Middle Mississippi Valley during the holiday season, residents prepare for the welcoming of the New Year with the centuries old celebration of La Guiannée.
The end of our garden year and recent single-digit temperatures has signaled the cessation of plant growth in the kitchen garden. The final harvest of spinach, the last remaining crop, does not define the end of work to be accomplished in the jardin potager. It is an excellent time, as weather permits, to remove unwanted plant debris, improve and amend the soil, and add compost to beds, preparing the kitchen garden for the coming year. In the eighteenth-century garden book, Every Man His Own Gardener: Being a Gardener's Calendar, and General Director, written by Thomas Mawe, John Abercrombie, and other Gardeners, published London, 1782, includes the advice for the month of December: "Now forward, at all opportunities, the trenching and digging all vacant spaces of ground in the kitchen-garden, that you may not have that work to do in the spring, when there will be much other business to be done, that could not be properly performed before."
In our jardin potager at Fort de Chartres State Historic Site, we are taking this early winter opportunity not only to work in the beds but to actually replace four of our rotting raised beds. Replacing and reconditioning the beds is a worthwhile and productive way to spend a winter's day and fits well with the concepts of birth and celebration of this season's holidays. Preparing the garden for a new season is a fulfilling reminder of the optimism of the New Year and the garden's future. This garden project is funded by last year's successful KGI Seedmoney Grant fundraising event completed December 2015.  A significant portion of the funds raised for our jardin potager last year was used to buy the lumber needed for this project. Former Fort site staff member, Gerry Franklin, has been an invaluable resource offering advice and assistance, working with garden volunteer and Les Amis du Fort de Chartres member, Jen Duensing, constructing the new beds in the appropriate manner required to match the current beds and consistent with eighteenth-century construction methods. The lumber had been ordered earlier this summer and has been curing in the intervening months. I can't fully express my gratitude for Jen and Gerry's work on this project, for their time and effort making the dream of new beds a reality. Recently, Jen, her son Graden, our newest garden volunteer, George Kutterer, Gerry, and the Fort's seasonal staff member, Jeff Weber, met me in the kitchen garden to install two of the replacement beds. The final bed was installed yesterday. With the lack of Fort site funds due to the Illinois State budget impasse, volunteer efforts combined with the many past garden donations are an irreplaceable gift to the jardin and the site. All donations—past, present, and future—enable us to move forward each garden season, including allowing us to buy and share heirloom seeds, furthering the interpretive efforts of this heritage project.
Visitors often express much interest in the raised beds in our French colonial kitchen garden and raised bed gardening in general. This common colonial garden feature existed throughout France and Europe in the late sixteenth and seventeenth centuries and was brought to North America as the French settled Northeast Canada and expanded westward towards the Mississippi River and south to Louisiana. Raised-bed gardening traveled with the colonial settlements as they grew along the routes of French expansion and the beds were found to be wonderfully adaptable to the various growing conditions found throughout the continent.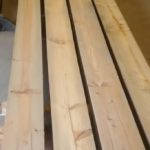 The materials used to create garden beds would be have been common to the area being settled. Likely materials used to make garden beds would have included lumber created from locally harvested timber, wattle made with wooden rods or stakes interwoven with twigs or branches to create a bed wall, and found materials such as stone. If using lumber found in the Illinois country, there are a few types of wood that are naturally rot resistant and long lasting, such as red mulberry,  cedar, and juniper. Dense woods such as black walnut or white oak would also be a good choice with older pine wood an option for a well-drained location. In order to match the larger bed lumber needed in our jardin potager, aged yellow pine was chosen to be used in our new beds as it could be acquired in the larger sizes needed for our replacement beds. The jardin's site is especially well drained for the most part, an important requirement in our wood selection of yellow pine. Yellow pine was the wood used previously in the construction of the Fort's jardin beds and the wood lasted on site for 20+ years.  For general information on raised bed materials, a nice reference site can be found here.
In the season's spirit of reflection, we look to the past to not only celebrate the highlights and successes of the recent growing season but to review and reflect on the garden's journey. Well met this past season are the friends and Fort visitors who have shown pleasure and interest in our French colonial heritage garden. The garden welcomed new friends such as Debbie & Ron McCain who donated a fig seedling to be planted in the jardin for mes amis Antoinette, Renea, and my use in our eighteenth-century culinary recette explorations inspired by the Fort's bake oven. This lovely gift was accompanied by a new fig preserve recette—such a kindness and one we look forward to exploring.  All these kinds of memories fill this past year's garden path. And with the close of another year, there is full recognition of and regard for those who have gardened at the Fort through the years, whether volunteers and/or staff, such as Adele and Linda. They deserve our thanks, appreciation, and remembrance for their efforts and of all the others involved in the work of interpreting our region's gardening past.
The interpretive journey of this jardinier has benefited from the kindness and skill of the many friends who have helped in the garden through recent years, Antoinette, Renea, Jennifer, and others. And then there are those who have created or donated beautiful garden tools, knives, and hoes, such friends as John Hancock, James Adams, and Shawna Kadlec.
Their beautiful gifts have been important contributions in the interpretation of this French colonial garden.  As any gardener knows, our tools require loving care and attention, which brings memories of a dear friend, Bo Bradshaw. Bo was a wonderful reenactor, his interest and attention to detail was impressive, as was his kindness. Bo often brought his period sharpening wheel to the Fort and you might have seen him set-up near the garden shed during a rendezvous or other event.  He would kindly sharpen our garden's knives, hoes, and hand tools-elevating the interpretive experience from the academic to a practical educational exercise. Bo's sudden passing earlier this month leaves us poorer in spirit and our hearts are sore for his loved ones and friends. For anyone who might have known or remembered Bo from Fort and other reenactment events, a memorial page has been created at https://www.gofundme.com/bo-bradshaw-family-fund.
And in the spirit of remembrance and reflection, it is fitting to take a moment at the close of this year to remember a good man and his seasons of giving and, in turn, repay his kindnesses to his family as they begin this New Year.
To support Les Amis du Fort de Chartres and all of its projects and efforts at Fort de Chartres, become a member! And if you would like to add a donation for the Fort de Chartres Heritage Jardin Potager, just  include your designated gift with your membership fee. We appreciate and give thanks for all support and extend greetings of the season-"Bonne année et bonne santé!"